Limerick Shredding Services
Paper Document Shredding Services Limerick Ireland
Clients situated in the Limerick Region of Ireland can avail of our confidential shredding services both onsite shredding and offsite shredding. They include Document Shredding, Paper Shredding in limerick, Document Destruction, Hard-Drives, Media, Product Shredding and Confidential Waste Disposal available across the Island of Ireland.
The level of security and client care built into all service deliveries has been significant drivers of our success to date. Our unique geographic location means that all clients within the Limerick Region receive a reliable and responsive Shredding Service at all times.
---
On-Site Paper Shredding Services Limerick Region Ireland
Our highly confidential onsite service empowers all of our clients with full traceability of their confidential paper waste in the form of Certificates of Destruction and Certificates of Recycling across the Island of Ireland. The certification from our onsite paper shredding service in the Limerick Region of Ireland is fully auditable and satisfies any audit requirements for our clients.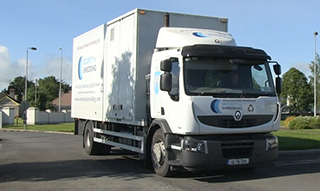 All confidential paper is destroyed through our specifically manufactured paper shredders. All paper shredders are operated by our specialist technicians and the destroyed materials are recycled in line with the European Waste Hierarchy.
Our Paper Shredding technologies are fully automated and the client's confidential material cannot be viewed nor touch throughout the process. Unique to our business, we offer clients a "Same Day Shred" service where all material collected is destroyed upon the same day without entering storage. This is an important point as clients in many cases are not made aware if their material will be destroyed immediately or enter storage for 1, 2, 3 days up to 2, 3 weeks or more.
Our full onsite paper shredding process is illustrated in-time to our client via our on-board VDU screen that monitors the work as the confidential documents are entering our innovative technology. This point is an additional innovative aspect of our paper shredding technology that increases the level of security and confidentiality of our onsite paper shredding service delivered to our clients throughout Ireland.
---
Offsite Paper Shredding Limerick Region Ireland
In addition to our nationwide onsite confidential document shredding service in Ireland, clients in the Limierick Region can avail of our innovative offsite. This offsite paper shredding service involves our high security document collection vehicles and specially trained shredding staff arriving at the client's location to securely collect the client's confidential documents in order to enter our secure facility.
This level of detail and security within our offsite shredding services provides our clients with peace of mind that their sensitive material is totally destroyed prior to entering recycling streams.
As with all of our paper shredding services, the offsite service provides our client with certification in order to illustrate compliance with Data Protection Legislation.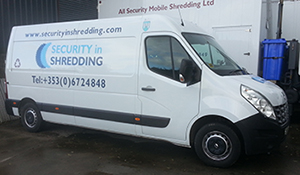 ---
Paper Shredding "Clear Out" Services and "Purge" Services Limerick Region Ireland.
Both the innovative Onsite Paper Shredding Services in addition to our Offsite Paper cater for clients that require once off clear out services in the Limerick Region of Ireland. Whether clients with confidential paper waste production require annual clear outs in order to clear space, move office premises and/or clear end of year accounting that has been stored for the required period of time we have a service delivery to meet their requirements throughout Ireland. The confidential clear out service within the Limerick Region is available to all clients with large and/or small quantities of documents as size is not an issue foe us.m We also have the additional feature of providing all clients with expert knowledge and advice in relation to confidential paper management as we are aware of the risks involved with data protection and the costs associated with breaches of data protection in addition to consulting services.
For further information on our offsite confidential paper shredding service in the Limerick region please do not hesitate to contact us.
---
Document shredding Limerick and in the surrounding areas can cause a great deal of stress for Organisations today to ensure that their data protection in Limerick and Digital Data Destruction Limerick services are in compliance with Irish and European data protection legislation. With stringent legislation for Data Protection in addition to further Data Protection legislation coming from Europe it is essential for organisations in the Limerick region to hire paper shredding Limerick vendors that satisfy their legislative requirements in addition to minimising risk of negligence when implementing this.
One fast and accurate method of ensuring that your Limerick vendor is a complaint vendor is that a vendor should only have the secure destruction process as their only activity on their site, with all separate activities if there are any to be separated. The main reason for this is to separate general waste and recycling companies from certified data destruction company.
There are document shredding Limerick vendors that may not satisfy an audit situation for a client and it is for this reason that clients can be at serious risk of negligence when destroying data through shredding Limerick services.
Minimising risk is integral in the data destruction industry and with this in mind it is important for clients to note that paper shredding Limerick vendors in addition to vendors on a national basis that may provide other services such as waste management, equipment hiring and commodities dealing can possess a higher level of risk for a client as that may not be in full compliance with European paper shredding standards.
The best vendors are required to have the relevant document shredding certifications. These certifications are not simply "certifications of destruction" provided to a paper shredding Limerick client as there are European Certifications and National Bodies that shredding Limerick vendors are required to have and be members of in order to be identified as a professional vendor at a European Level.
Whether you require an Offsite or an Onsite paper shred Limerick service, our team of dedicated staff will ensure that you have a pleasant and informative experience when completing your document shredding service.
Please do not hesitate to call our paper shredding Limerick client care team and they will provide you with the relevant information to ensure that you are in compliance with European Legislation and not at risk of negligence with no obligations. 
---
What are the benefits for your Business in Limerick?
Does your company do in-house paper shredding? Has your company been a victim of theft because of loss of stolen documents? Every company needs to take care in the way they destroy paperwork with information on it to do with the business, employees, and customers. Here is a brief outline of some of the benefits of paper shredding for your business in Limerick.
Offers you peace of mind that your private documents have been destroyed in the proper way
Environmentally friendly
It is convenient
It is affordable
It is a great way of getting rid of clutter in the office.