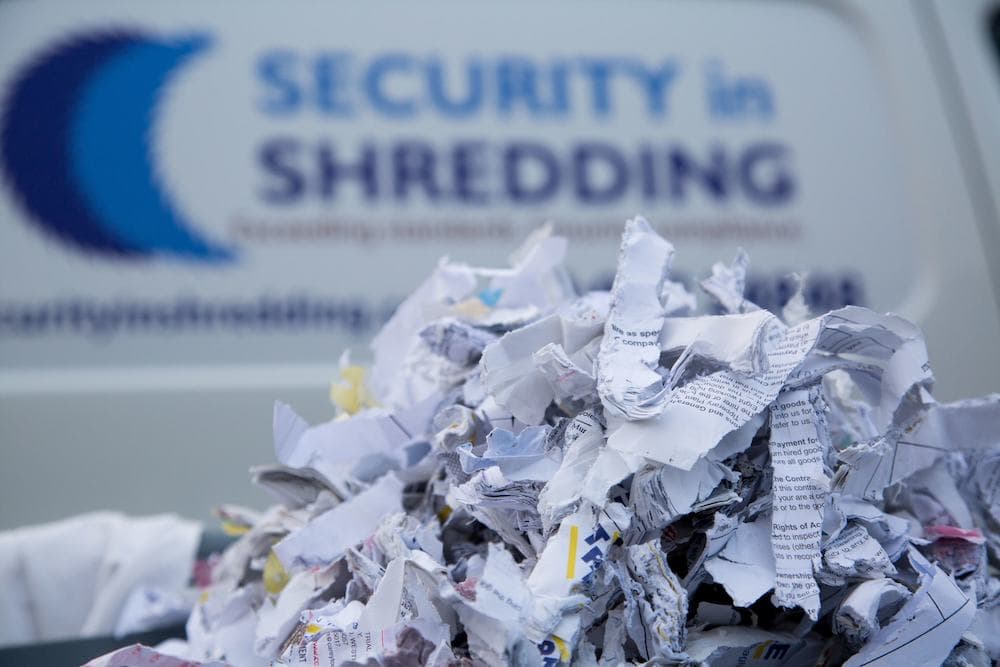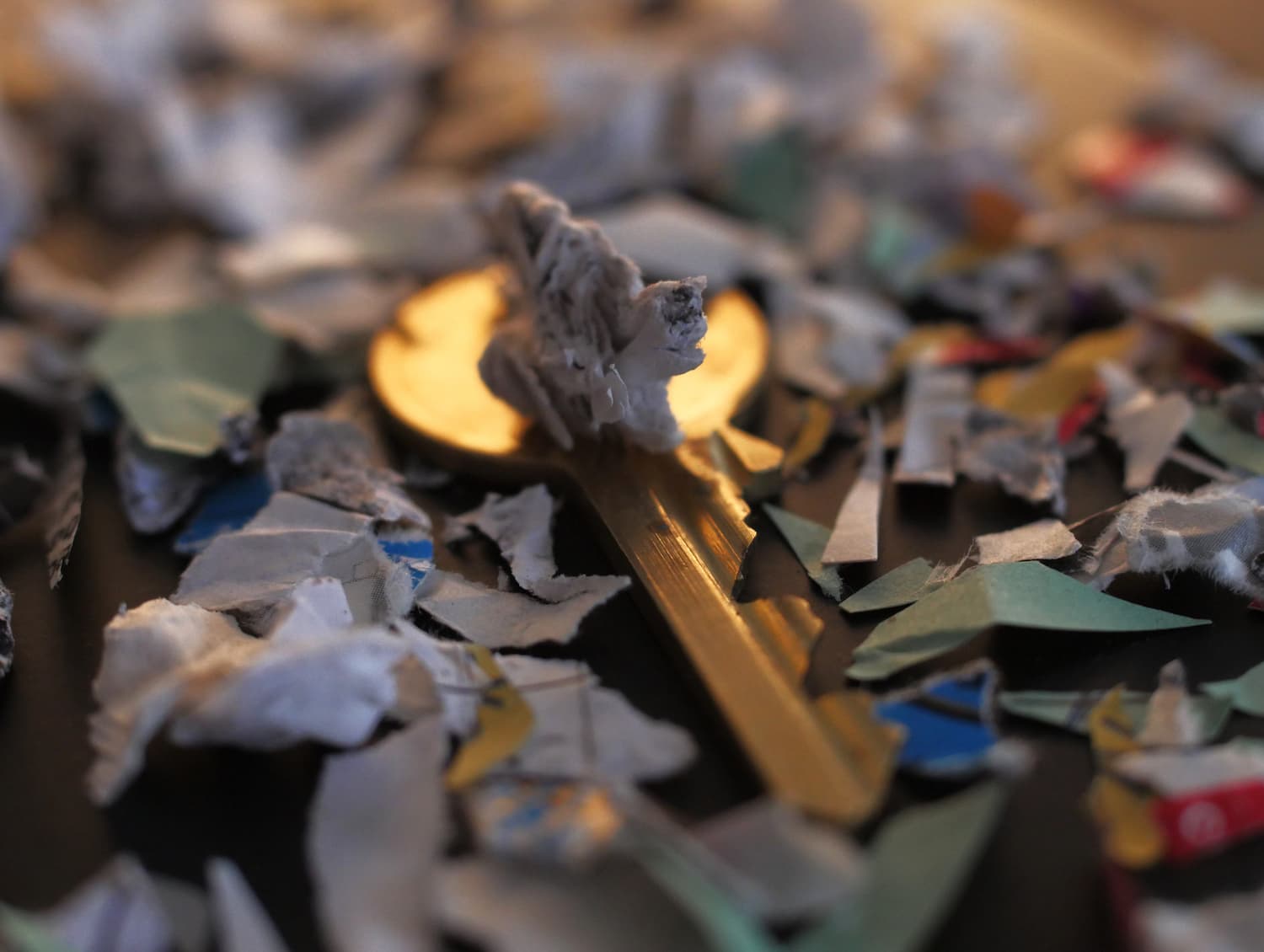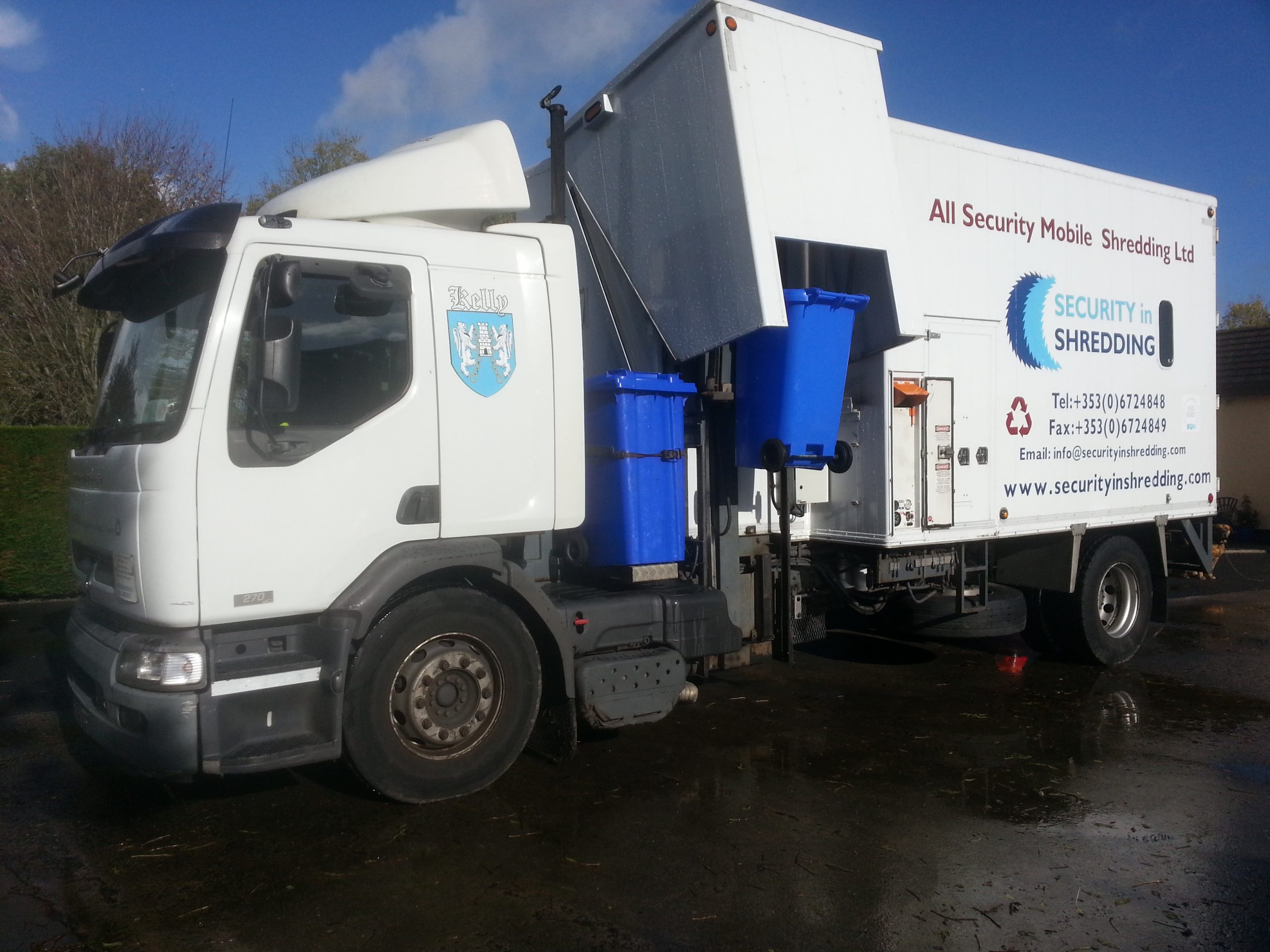 sisFleetlogo-1-1
New Service for
Remote Workers and
Domestic Market
sisFleetlogo-1-1
"It's our business to protect your business" - Company Director Séan Kelly
Office Locations : Dublin – Cork – Galway – Limerick – Tipperary
sisFleetlogo-1-1
On Site Mobile Paper Shredding
Scheduled Basis - On Call - Clear Out
sisFleetlogo-1-1
Off Site Document Shredding
On Call Basis - Scheduled Basis - Clear Out Basis
Secure & Confidential On Site Mobile Paper Shredding
With increases in legislative fines and penalties across Europe, Confidential Paper shredding and data destruction has become an essential activity for organisations today to comply with data protection laws.
On Site Paper Shredding
With our Onsite paper shredding service, the client's sensitive material is destroyed at their premises and they receive a certification of compliance post each confidential shredding service. The full destruction process can be viewed through our onboard camera system.
Off Site Paper Destruction
If clients need to go through their material prior to receiving their shredding service, our offsite paper shredding service is ideal. With this service, we can provide the client with containers to fill as they go through their material. Once complete we arrange for the secure collection and destruction of the material. Our services are safe, secure and cost effective while ensuring to achieve compliance with the Law.
IT & Media Destruction
Our nationwide Hard Drive Shredding service is the only one of its kind in Ireland. We can come onsite to each client location to securely destroy each hard drive to particle sizes ensuring that the data is destroyed. We can also provide our offsite hard drive shredding service where the data carriers are collected and destroyed. We are the only Irish Company to offer this service to clients both at their location and offsite. All material is recycled in line with The European Waste Hierarchy.
Product Destruction
Our obsolete product destruction service was the first of its kind in Ireland. A necessity for manufacturers who cannot allow their products from production to enter general waste streams due to patents and competitive reasons.
Uniform Destruction
Our uniform destruction services have been destroying uniforms for clients varying from crime fighters, healthcare providers, military, manufacturers, PPE and high end clothing outlets since 2004.
New Service for Remote Workers & Homes
New fully auditable shredding service for people working from home due to COVID and clearing out old files from their homes.
About Us
We are a 100% Irish owned paper shredding company specialising in the provision of confidential shredding services that helps achieve Data Protection Compliance for Organisations in Ireland for over 12 years.
Since establishment in 2004 our reputation for exceptional security, customer service, value for money and the use of globally leading technologies achieving the highest security during the process has proven to be unique within our Industry and differentiates us other firms within the market here in Ireland.
We offer secure Document Scanning Services, Certified Paper disposal Services, Hard-Drive Destruction, Disks Destruction, Uniform Destruction Services and Obsolete Product Destruction throughout Ireland.
Our Products & Equipment
With our on site trucks performing secure shredding, our off site document destruction service provides your business with a solution to ensure your data protection needs. View our products and equipment that keep your data safe and secure.
The Team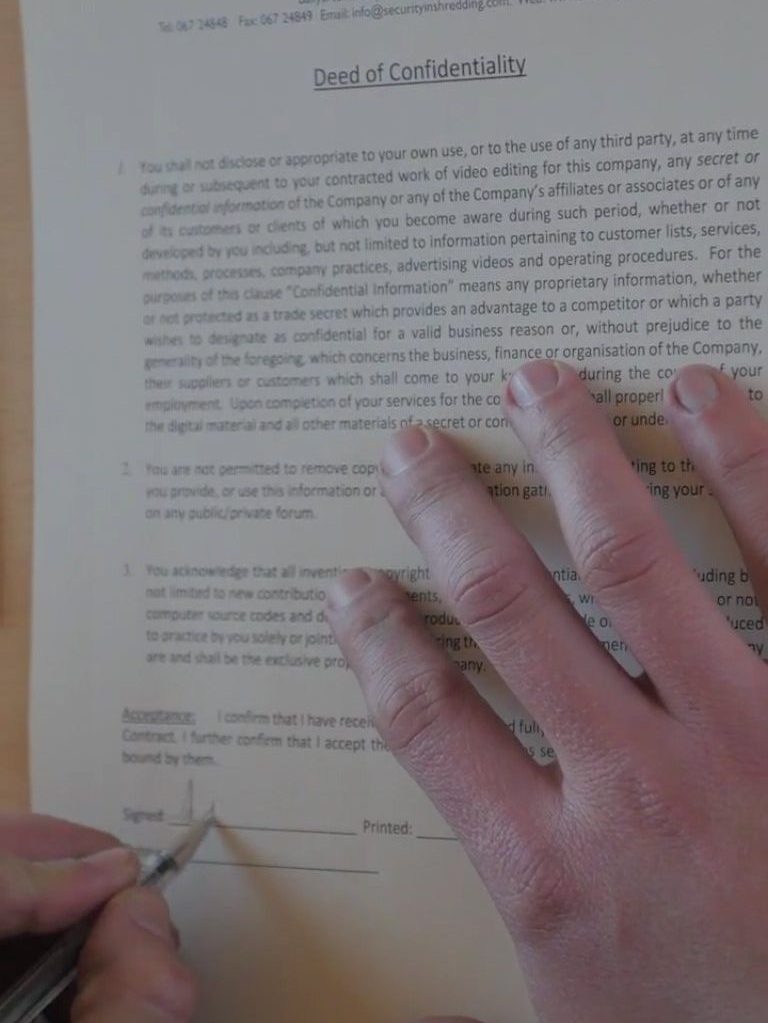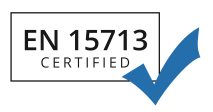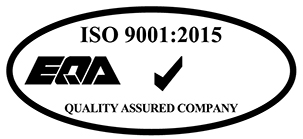 Data Protection & Compliance
Our paper shredding service customer care representatives provide guidance to clients helping them to achieve compliance with The European Data Protection Legislation when managing their requirements. All services are certified to EN 15713 which is the European Standard for Secure Data Destruction. In addition to our certification for EN 15713, we are the only company in Ireland to have independent certification for our shred sizes.
We can provide a shred size of 15.9 mm cross cut particle up to the high security size 6 mm cross cut particle which are both achieved onsite. The service that achieves the highest shred is eight times more secure to the traditional 15.9 mm paper shred. Please see the table below outlining the particle sizes.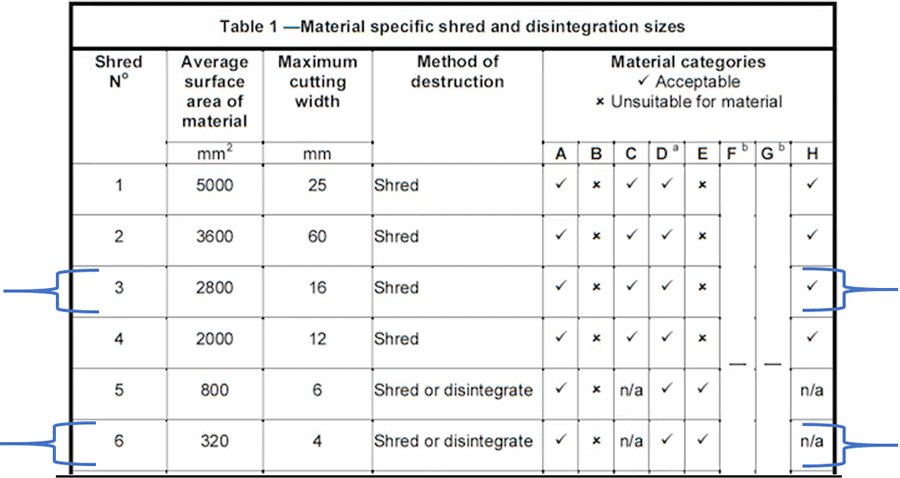 Our Shredding Services
Our confidential services achieve data security and legislative compliance for our clients. As the industry leaders for confidential shredding services Ireland we strive to achieve total customer satisfaction and maintain the highest standard of confidentiality.
We are a single resource for clients to manage all sensitive material destruction requirements. We certify the destruction through our paper shredding services, hard drive shredding services, CD/Tape shredding services and product destruction services to name a few. When looking for a partner to ensure your compliance with Data Protection Law through certified destruction services, we at Security in Shredding are your no.1 choice.
Additional features have been implemented to improve the quality of our confidential document destruction. Such measures include; staff background checks with An Garda Síochanna, slam locking systems on all vehicles, GPS tracking on all service vehicles, achieved ISO 90001 for quality, conform to ISO 14001 for Environment and are members of The Irish Security Industry Association.
OUR MARKET LEADING FORMULA
Simply put; our Paper shredding service provides protection to you our clients. Your old data is confidentially shredded to achieve compliance and our environmental ISO 14001 compliance is good for the environment giving you peace of mind and saving you money. We are the number one company for your business in Ireland.
Testimonials
Firstly, thank you for organising the van to shred my papers on Tuesday morning-very efficient and very nice men who operated the procedure.
- Eir
I wish to acknowledge all bins were shredded yesterday as promised. On behalf of HSE Derg centre, Nenagh I would like to thank you for your prompt and efficient service, as always. As we are very conscious of compliance with our data protection policy it is wonderful to be able to call upon such an efficient service and receive a prompt response at all times.
- HSE
All Security Mobile Shredding Ltd recently completed a very large scale on site operation (42 million units) of private waste for this department. I was very impressed with their level of professionalism and with their equipment which was state of the art. I would have no hesitation in highly recommending them for any major or minor waste data processing operation that they may tender for.
- Department Of Social Protection
Many thanks for arranging collection & shredding on site of our files etc. as usual the work was carried out with the utmost competence and punctuality.
- Solas
Security
Security and confidentiality is the core of our business and to maintain the highest standard available. We at have special quality and security controls in the following areas;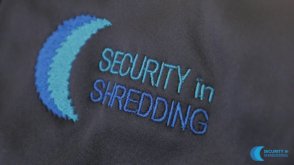 Compliance ensures our success and to guarantee data security and confidentiality. Our Standards, Our Licenses, Health & Safety, Environmental Compliance, Information Management Compliance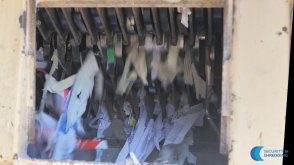 Compliance ensures our success and to guarantee data security and confidentiality. Our Standards, Our Licenses, Health & Safety, Environmental Compliance, Information Management Compliance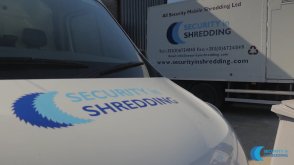 Our services conform to European Standards and are provided to government departments, public and private companies as well as home owners throughout the Republic of Ireland
Geographical Spread
Since the establishment of our services in 2004, we are consistently the No. 1 choice security partner throughout Ireland.
Geographic areas of our services include: Munster, Leinster, Dublin, Connaught and Ulster Regions.
Our professional mobile paper destruction is available in your region, whether you require it in Dublin or Cork, our responsive expert staff are here to assist.
SEO by Proseo.ie