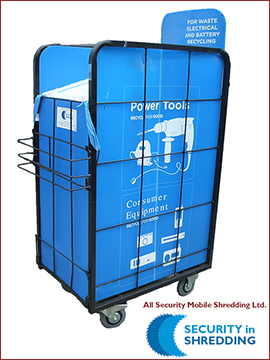 In conjunction with our High Security Electronic Media Destruction Service we at Security in Shredding offer IT recycling for equipment that is redundant and no longer fit for purpose within a client's business. Our advanced electronic recycling service provides total security and confidentiality of the client's confidential information stored within the technologies prior to recycling the hardware.
We provide this innovative and imperative recycling service to many types of organisations including Governmental, Manufacturers and Service Organisations.
The Security in Shredding WEEE Recycling Service collects Electrical and Electronic Waste Securely and provides certified recycling in an efficient and cost effective way throughout the Island of Ireland in an efficient and cost efficient way fulfilling the guidelines of the WEEE Directive.
Key Service Aspects
Certification of Recycling and Destruction
As WEEE Directive introduced the end user to be responsible for the environmentally safe disposal of WEEE equipment Security in Shredding provide each client with traceable and auditable certification for all products recycled and destructed.
Nationwide Collection of WEEE Equipment
As we at Security in Shredding have a vast transport and logistics network throughout Ireland we can collect large amounts of redundant WEEE Equipment from your premises.
Low Environmental Impact
In conjunction we Security in Shredding's WEEE Recycling Service the client in turn is ensured that their redundant equipment is being recycled appropriately with certified documentation. This in turn provides the client with proof that they are recycling all of their WEEE Equipment ethically resulting in a low environmental impact from their operations.
Serial Number Recording
Security in Shredding's WEEE Recycling Service provides clients with serial number recording report post service delivery. This recording report provides our clients with total peace of mind that their material has been destructed and recycled appropriately and ethically.
100% Guaranteed Data Security
We at Security in Shredding provide our clients with a 100% Guarantee that all data is destroyed prior to recycling. The method of shredding for data destruction the we utilise is the only method capable of guaranteeing clients that the data is 100% Destroyed providing further satisfaction to our clients.