Confidential Shredding Specialists Services
Security in Shredding provides a vast range of innovative shredding services that cover the Connaught Region (Including Roscommon, Sligo, Mayo, Leitrim and Galway). These Confidential shredding specialists services include Onsite Paper Shredding, Offsite Paper Shredding, Onsite Product Destruction, Electronic Media Shredding and general Recycling Services.
https://maps.google.ie/maps?q=connaught&oe=utf-8&client=firefox-a&ie=UTF8&hl=en&hq=&hnear=Connacht&t=m&ll=53.846046,-8.492432&spn=1.620412,3.834229&z=7&iwloc=A&output=embedThe paper shredding services can be divided into Onsite Shredding and Offsite Shredding in order to suit the clients confidential paper needs.
Our award winning professional services guarantee total confidentiality delivered through our professional, proven and experienced shredding staff.
Not only do we at possess a 100% unblemished track record when it comes to confidentiality and customer satisfaction achieved, we have an enviable amount of experience providing our confidential paper shredding services to a number of Nationwide Contracts within The Medical Industry, Healthcare Industry, Communications Industry, Justice and Law Industry and Financial Industry just to name a few. We pride ourselves in increasing the level of service quality within the confidential paper shredding industry through setting new standards of shred due to our in-house designed shredding technology and service procedures.
Our clients are appreciative of our innovation and service perfection.
Onsite Paper Shredding Connaught Region
For our responsive Onsite Paper Shredding Services, we provide secure paper shredding services throughout The Connaught Region (Including Roscommon, Sligo, Mayo, Leitrim and Galway) and this service is delivered through our specially designed industry leading mobile shredding units.
During our service delivery one of our paper shredding units will arrive onsite at the Client's premises and shred all of their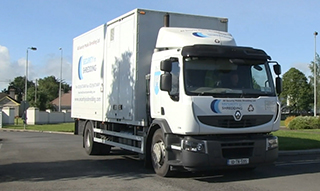 confidential material without our specially trained shredding staff touching or seeing any of the material which results in our shredding systems being the most secure and confidential shredding systems within the market. The more common shredding technologies within the market requires the shredding staff to enter the rear of the shredding unit with the client's confidential material as it is not a fully automated system. These less advanced shredding systems possess a significant risk to the client as it is extremely easy to leave a certain percentage of material not shredded without the client being aware.
The fully automated shredding systems that Security in Shredding utilises during their innovative paper shredding services is an additional illustration of how we have increased the level of security & satisfaction provided to the client.
In order for the client to have full traceability of their material Security in Shredding provide Certificates of Destruction at the invoicing stage. These Certificates of Destruction are fully auditable which in turn protects the client to the maximum level.
Offsite Shredding Services Connaught Region
The innovative Offsite Shredding Service is available to potential clients within The Connaught Region (Including Roscommon, Sligo, Mayo, Leitrim and Galway). At Security in Shredding secure data destruction is our number one priority and we strive to consistently increase the level of quality and standards available to all of our clients.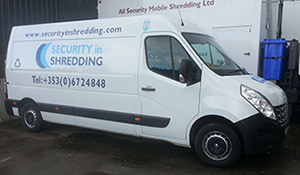 As we are solely concerned with the level of Confidentiality, Customer Service and Security provided during our paper shredding services our innovative offsite shredding service has been strategically developed with a "Same Day Destruction" policy for all material collected within our secure collection vehicles with all clients receiving a certificate of destruction at the invoicing stage.
With the same day shredding policy we do not store any of our client's confidential material as we do not look to maximise revenue from the paper during the exportation process.
This risk is another example of how we at Security in Shredding strive to provide awareness to our clients in order to be knowledgeable of the potential risks certain service deliveries provide.
Clear Out Services & "Purge" Service Deliveries Connaught Region
We at Security in Shredding provide high security paper shredding clear outs "Purge" shredding services for clients who have small and large quantities of confidential material that is required to be destructed beyond recognition and reconstruction.
For our clients with such requirements we can cater for their needs with both our Offsite Paper Collection & Same Day Shredding Service delivery and our Onsite Paper Shredding Service delivery with little to no lead time.
Our proven responsive service deliveries certainly provide our clients with total peace of mind and satisfaction during ALL service deliveries.
All of our confidential paper shredding services allows the client with the option of choosing a preferred and most suitable option of Secure Consoles, Secure Storage Sacks and/or Secure 240 Litre Receptacles. Please see our Product List for further information in relation to our products.
confidential shredding specialists
Paper shredding is a legislative responsibility for all Organisations in Ireland and it is essential that they all abide by the European law in order to protect their image in their given markets. Through hiring Confidential shredding specialists an Organisation can better protect themselves from harmful and in many occasions detrimental data breaches. With new and extended data protection legislation being introduced from a European level it has become more important than ever to ensure that you are hiring confidential shredding specialists that ensure their clients are in compliance.
The title of Confidential Shredding Specialists does not cover a client in the case of a data breach. Full compliance goes further than a title. Professional Confidential Shredding Specialists all over Ireland are required to have certifications in place that illustrates that they truly are a professional data processing shredding specialist.
With new data protection legislation coming down the line for all European member Countries clients will have to make certain that any confidential shredding specialist that they are hiring have certification at European level that illustrates that they are professional data processors that are confidential shredding specialists.
Two fast methods of protecting your Organisation is to number 1; ensure that the confidential shredding specialists are European Certified for paper shredding of data and number 2; ensure that confidential shredding specialists are members of an Industry Association which provides additional security requirements and industry standards.
Whether you require an Offsite paper shredding service or an Onsite paper shredding service our team of dedicated staff will ensure that you have a pleasant and informative experience when hiring our confidential shredding specialist service.
Please do not hesitate to call our paper shredding client care team and they will provide you with the relevant information to ensure that you are in compliance with European Legislation and not at risk of negligence with no obligations to our data destruction services.