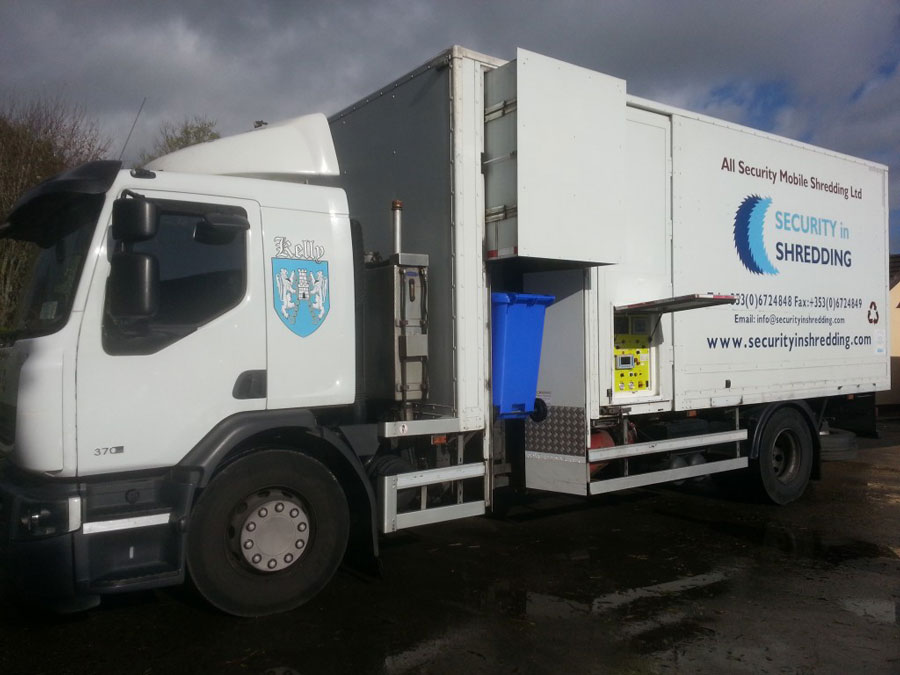 When it comes to data protection, confidential shredding of your documents should be incorporated as part of your business day to day. Limerick & Galway regions can also benefit from our on site shredding service.
On Site shredding provides a secure shredding process to your business and also a number of other benefits for your business such as:
We can provide a "Scheduled Basis" On Site Shredding
"On Call Service" Client calls and sets a date for out team to
"Clear Out Shredding" For large quantity of document destruction
The Data Protection Commissioner
There are many reasons for your business to incorporate a confidential shredding service. Firstly it's the law; The Data Protection Act ensures that businesses and organisations maintain that the data stored by them is protected to a standard set by the DPC.
More details regarding data security and method to improve your data security can be read on the DPC site;
Data Security Guidlines
How Confidential Shredding Can Help
When it comes to data protection, minimising the risk of data breaches is essential for businesses to continue in operation. As mentioned above it's the law but also data breaches can be hugely damaging to a companies reputation. If people are aware of a business or organisations data breach, people will not use that service or switch to a competitor good or service. All it can take is one breach for this to occur.
Along with compliance with the law, there are a number of reasons why your business benefit from confidential shredding services, reasons such as:
Prevent information leaks and breaches of security
Reduces your risk from improperly discarded documents
Reduces risk of identity theft
Reduces your risk of recovery
Reduces your storage costs
Saving employee time from document shredding
Minimum time used for speedy efficient shredding service
Affordable and cost effective
Become an active business in protecting the environment
On Site & Confidentiality
Our on site shredding service will provide you and your business a secure method of destruction. The shredding process is monitored to ensure that the documents are destroyed and our on board systems ensure that this process is done correctly. The added bonus of the truck being on site, is that you get to see your documents go from the bin to shred on your premises. Giving you the confidence that your documents are destroyed in a safe and secure manor.
For more information on our on site shredding and or any other services we provide, please check out our site or feel free to contact one of our shredding specialists.
Email us at: info@securityinshredding