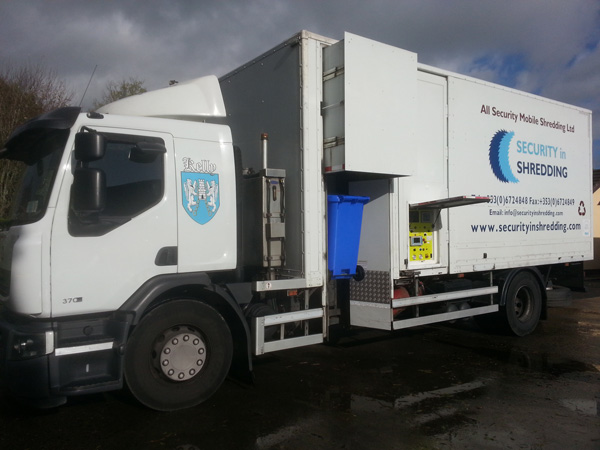 At Security In Shredding we provide excellent and secure service in both onsite shredding and onsite collection with off site shredding. Providing paper shredding in Ireland with a high quality service.
Din 66399 Standard
We operate under this standard. The Din requirement is in place and provide 3 separate shredding levels for your data destruction. The level of protection will depend on the how fine the paper is shredded.
Din level 1
Din level 2
Din level 3
The type of documents used will depend on the level of security you should implement. Documents containing a low threat and low impact would require Din level 1. Sensitive data restricted to a small group of people would require Din level 2 as if these documents were leaked would cause harm to a business. Din level 3 should be used for highly confidential data only accessed by authorised people.
On Site Mobile Shredding
This service is beneficial if you require your documents to be securely shredded on business premises. Our specially designed vehicles will securely destroy your documents. The entire process is done securely and is environmentally friendly where all waste is sent to a licensed waste company. More information can be viewed here:
https://www.securityinshredding.com/onsite-document-shredding.php
Off Site Document Shredding
Our off site service is also done to a high standard of security. We operate on a scheduled basis and our staff will collect the bags from a secure area within the business premises. The bags are collected by uniformed staff on a set time and will inform you if they are on route. The bags are placed into a locked secure van and taken to our site where it is shredded. Full details of the process can be viewed here:
https://www.securityinshredding.com/off-site-document-shredding.php
IT & Media Destruction
Data is not just paper data. It comes in many forms and digital data and the devices used also need to be destroyed in a secure manner. Digital has has become more and more popular and data protection of these devices needs to be implemented.
https://www.securityinshredding.com/it-media-destruction.php
Our aim is to provide you with a high quality and highly secure service, with minimal impact on your day to day business activity while maintaining your data security. For more information please visit our site or contact us for a consultation:
https://www.securityinshredding.com/