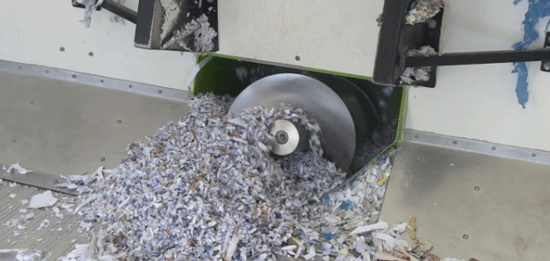 A reputable confidential paper shredding services available in Cork and Limerick will provide your business with either on site document shredding or off site document shredding depending on which suits your business more.
Today, virtually every business collects and maintains sensitive information. When information that is collected relates to a human being it is known as personal sensitive information and in turn both Irish and European Data Protection Laws are applicable. Within these laws there are specific methodologies for Organisations and individuals to abide by when they are; collecting sensitive data, storing sensitive data and securely destroying the sensitive data through services for confidential shredding Ireland.
Many businesses are evolving to store the majority of their data electronically whether it be in a secure onsite storage device or an offsite "cloud" solution vendor which is a data storage service through the internet.
Even with the shift in actions from organisations in storing their confidential data in the "cloud" many businesses store and produce physical data on paper files daily. When speaking about electronic storage of data and physical storage of data in paper files we cannot forget to include the paper that is generated on a daily basis through daily working activities. This paper is also confidential in nature and as the data protection legislation applies it requires to be destroyed through a confidential shredding service. Daily data generation examples would be; memo's, wages slips, pricing quotations, correspondence, meeting minutes and strategy plans just to name a few.
Reasons to destroy your confidential data that is generated in your business;
Prevent identity theft
All organisation need to illustrate full competence in managing their sensitive data. In order to protect their employees, their customers, and their business, it is imperative that you confidentially shred all of your documents when they're no longer needed either through an in-house confidential shredding service or an onsite confidential paper shredding service provided through an expert Organisation that has all of the required certifications.
Protect your customers
It takes months to get a new customer however, it truly only takes seconds to lose a good customer. It is beyond imaginable that any Organisation could put the personal information belonging to their customers at risk of a data breach through not having detailed procedures for confidential shredding of the data, training programs for staff and shredding services in place.
It is the law
Legislation on a global level is becoming more and more detailed and monitored and rightly so. New Data Protection Legislation that is a regulation and not a directive is coming into force in Europe which will supersede the current legislation. This regulation is placing further emphasis on the protection of personal sensitive data and it is amplifying the requirement of Organisations to ensure that they have a confidential paper shredding service in place.
Protect your employees
Many famous and well respected entrepreneurs will tell you that you that if you look after your employees the employees will look after the customers, in addition to the employee being the life blood of an Organisation and this point is right along those lines. Employees know and are learning more about their legal right to privacy in today's world. It is expected that an employee will keep their personal information safe and secure and when required the data will be destroyed through an onsite shredding service or an offsite shredding service.
All old outdated employee information from wage information to ID badges are require to be protected and securely destroyed. If an Organisation is placing this sensitive information into general recycling streams they are failing both themselves and their employee under the Data Protection Legislation.  The secure and professional destruction of this information through a confidential shredding service is safe, efficient and compliant method of protecting your data.
Space maximisation
When there is no clear and concise system in place to manage the confidential shredding requirements you will be amazed at the rate of which the paper data is generated and accumulates. If you have paper building up in your offices, you are wasting high valued "real estate" and you should consider the implementation of a confidential paper shredding Ireland Service and you will create space that is required for your future business activities.
For further information, please contact Security in Shredding by visiting; www.securityinshredding.com
Email us at: info@securityinshredding.com