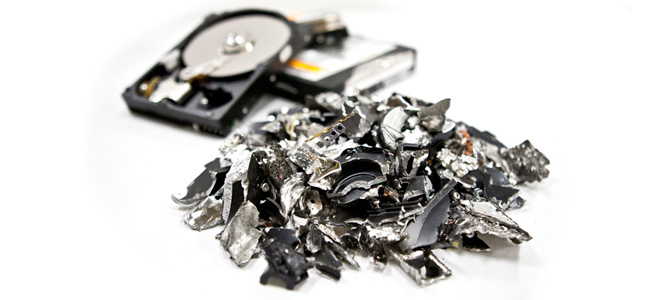 All digital data is stored on a hard drive. Weather its stored locally (your own device) or on a cloud server, the data is stored on a hard drive. The device used to access this data be it a computer, laptop or tablet technology will become outdated or slow to use. When the time comes you may wish to get rid or sell the outdated device.
This is where the data risk lies. Before you sell the device you might have deleted all your local data from the device or even formatted the drive. This does not remove the data from the drive.
The fact is there are software programs designed to help thieves extract data even after data has been electronically destroyed.
At the same time, there are other concerns that make secure e-media and hard drive disposal a critical aspect of device security.
Current Storage Drive Trends:
Affordable.  Hard-drives and storage devices in desktop computers, laptops, servers, phones, USB thumb drives, printers, copiers, and other equipment have become widey available and affordable. In 2015, technology companies shipped more than 2.6 billion devices containing hard drives, according to IT research firm Gartner.
Internet of Things (IoT).  Digital data storage and usage is increasing in businesses and organisations. This increased usage means that more and more devices are connected to a network and can increase the risk of data breaches within a network. Protecting against these potential as data breaches are increasing.
Upgrading.  Electronics become obsolete (and are replaced) within three or four years – and that affects BYOD security and other safeguards. We live in a world where the number of mobile devices exceed the number of people in the world. When upgrading ensure that the older device is destroyed or the data storage device is destroyed.
Cybercrime.  Industry experts predict a continued boom in cybercrime. In America the terms of cost, the average consolidated total cost of a data breach rose 23% to $3.8 million in 2014 compared to the previous year. The 2015 Cost of Data Breach Study: Global Analysis from Ponemon also showed that the average global cost for each lost or stolen confidential record increased from a consolidated average of $145 to $154.
If it can happen in America it can happen anywhere else. Most of the applications you use will be developed globally and the breaches
Responsibility.  Data Protection is a corporate priority and responsibility. The Data Protection Commissioner is set up to ensure that businesses and organisations are protecting data correctly. The DPC also provides guideline on how to protect your business data from breaches. Guidelines can be read here: https://www.dataprotection.ie/docs/Guidance-Material-Menu-Page/m/219.htm
Secure document shredding and media destruction companies will provide secure method of data destruction. For more information please visit our site.