Away from Data Protection and Secure Data Destruction (Paper Shredding, Media Shredding and Secure WEEE Recycling); The Security in Shredding Team took the hands on approach with The amazing charity "One in Four".
In March of 2014 Security in Shredding teamed up and got involved in a charity sponsored horse riding event to aid of fund raising for The One in Four Charity. Not only did the Company donate for the great cause but the brave staff entered themselves and their horses in the event for the day.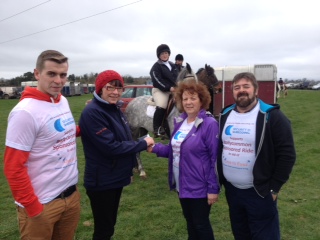 Front:     Presenting the donation to the Charity; Senior Management at Security in Shredding & Maeve Lewis (One in Four Executive Director)
Back:      Staff of Security in Shredding entered into the event.
One in Four's Mission
One in Four professionally supports men and women who have experienced sexual violence, many of them during childhood. Their aim is to reduce the incidence of sexual abuse by intervening in key areas of the cycle of abuse. It is achieved through psychotherapy, advocacy and prevention services.
Their service users are men and women who have experienced sexual abuse.  The context of the abuse is widespread as reflected by our 2010 therapy clients: familial (45%), clerical and institutional (27%), community (19%), professionals (7%), strangers (2%).
Call One in Four on 01 6624070, Monday – Friday 9.30 to 5.30pm or
Email One in Four: info@oneinfour.ie

(Supporters and management at the event on the day)
The event was a great success and we at Security in Shredding are absolutely delighted to have been involved and we are all looking forward to more opportunities to give back to the community and people who are in need. Due to the success of the event it will be annually held going forward.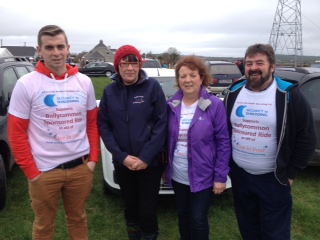 For any further in formation relating to The One in Four Charity and how you can help with the fantastic work they do contact the Security in Shredding Team and/or The One in Four Charity Contact.
Call One in Four on 01 6624070
Call Security in Shredding on 067 24848